Množstvo rodičov v týchto chvíľach rieši otázku, či dať deti do školy po znovuotvorení ich brán 1. júna. Toto rozhodnutie je, samozrejme, výlučne vo vašich rukách (príp. v presvedčovacích schopnostiach šikovného prváčika až piataka). Čo by ste podľa nás mali zobrať do úvahy pri rozhodovaní sa?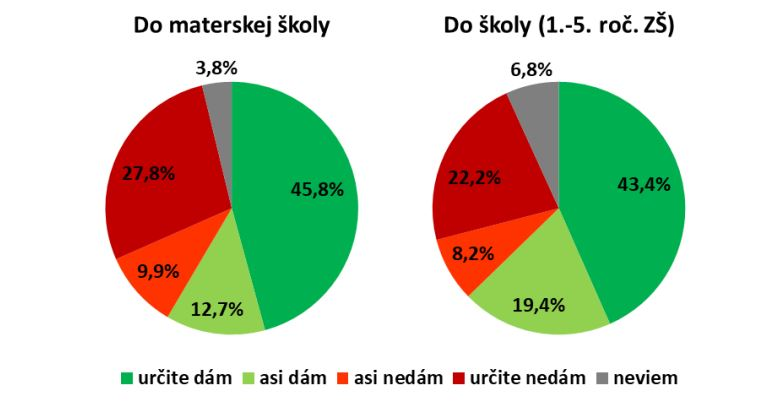 Zdroj: prieskum agentúry AKO
Rozdelené vyučovanie – online a doma
Zatiaľ nie je jasné, ako bude rozdelená výučba prebiehať. V niektorých školách čaká panie učiteľky a pánov učiteľov dvojitá "šichta" s osobným i online vyučovaním, inde technicky náročnejšia live výučba, v ďalších sa rozhodli len pre súhrnné posielanie materiálov prebraných v reálnej škole na konci týždňa a napríklad na istej škole v Petržalke vyučovanie začína už o 7:00 ráno s povinným meraním teploty. O spravodlivosti rozdelenia sa dá polemizovať, ostáva nám len veriť, že všetci zúčastnení hľadajú najlepšie možné riešenie pre našich žiakov a ich rodičov.
Idete alebo nejdete do školy?
Pokiaľ odpočítavate dni do 1. júna a do školy dieťa zobrali, máte to vybavené. Režim aj podmienky v škole budú pozmenené, určite náročnejšie, ale najväčšie bremeno neostane na rodičoch.
Ak sa z akýchkoľvek príčin dieťa do školy rozhodnete nedať – či už z dôvodu ochorenia v rodine, seniora v spoločnej domácnosti, tehotenstva alebo ak vám nebodaj aj napriek záujmu "neostalo" miesto, nezúfajte. V Cielene vám radi pomôžeme s prípravou do školy, a to vo forme pravidelných hodín jeden- alebo viackrát týždenne či ako pravidelná náhrada školského vyučovania v doobedných hodinách. S mnohými žiakmi tak fungujeme od začiatku koronaprázdnin, ďalší sa nám ozývajú teraz. Online formou môžeme takto vyučovať aj niekoľko žiakov z jednej triedy naraz (optimálne množstvo je do 10 žiakov).
Od 1. júna učíme aj na pobočke
V prípade záujmu o individuálne hodiny vám radi pomôžeme tiež. Našu pobočku otvárame od 1. júna a vzhľadom na upravené priestorové požiadavky (15m2 na jedného zákazníka) u nás vieme učiť alebo doučovať 14 žiakov naraz (1-to-1, 1 žiak a 1 lektor). Miesta ešte máme, prídete?
Pre bližšie informácie alebo cenovú ponuku koronavzdelávania nás neváhajte kontaktovať.